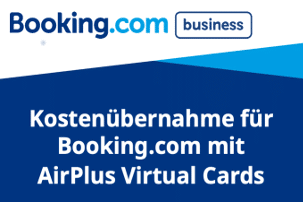 With the new assumption of costs based on the AirPlus Virtual Cards (A.I.D.A.), you can make hotel bookings more convenient with central payment.
The activation of the assumption of costs of Booking.com is free of charge. It is easy to define which costs will be beared by the company. The bookings are all made through A.I.D.A. Payment.
The traveller therefore no longer has to make advance payments, but show the assumes the assumption of costs when checking in.
If you would like to activate the assumption of costs by Booking.com, please contact Atlatos support. More details on Booking.com coverage.